Exhibitions
Our exhibitions are drawn primarily from the Hawke's Bay Museum's Trust collection. Permanent exhibits on the 1931 earthquake and the region's stunning Taonga Māori are supported by changing exhibitions in seven additional gallery spaces.
Sea Walls: Seaside Scavenger Hunt
Free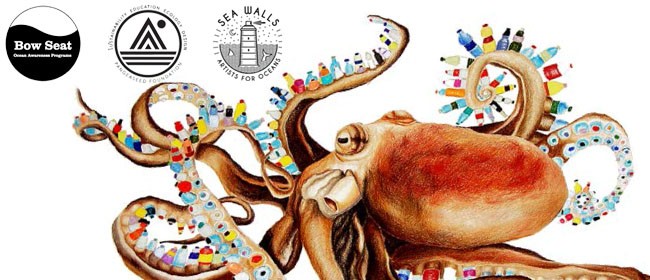 The Seaside Scavenger Hunt is sponsored by Bow Seat Ocean Awareness Programs, in partnership with PangeaSeed Foundation and Sea Walls: Artists for Oceans in Napier, New Zealand. Bow Seat Ocean Awareness Programs is a U.S.-based nonprofit that empowers teens to protect the ocean and to make art that makes a difference.

Art for the Oceans:
Bow Seat Ocean Awareness Programs and PangeaSeed Foundation believe that the arts play an important role in protecting the environment by raising awareness, starting conversations, and inspiring positive action. We call this ArTivism.

How to Participate
Follow the trail of Art for The Oceans to learn more about why the ocean needs our help and what you can do to play a role in protecting our seas. Match the numbered signs with the questions on the inside of the booklet that can be collected from MTG Hawke's Bay. Complete and return to MTG Hawke's Bay (11am – 4pm) to claim your prize!

Making Waves Through the Arts
All of the artwork featured in the scavenger hunt was created by students from all over the world who participated in the annual Ocean Awareness Student Contest. Visit bowseat.org to learn more about how you can give a voice to our oceans.
When
Friday 24 March, 10:00am to 5:00pm
Saturday 25 March, 10:00am to 5:00pm
Cost
Restrictions: All Ages
Free
Where
MTG Hawke's Bay, Napier, Hawke's Bay / Gisborne
1 Tennyson St, Napier, Hawke's Bay / Gisborne
MTG Hawke's Bay is one of Napier City Council's great facilities/services. There are many more...
Enquiry or Feedback
If you have any questions, problems or feedback for MTG Hawke's Bay please let us know about it.
Follow MTG Hawke's Bay on facebook...