Exhibitions
Our exhibitions are drawn primarily from the Hawke's Bay Museum's Trust collection. Permanent exhibits on the 1931 earthquake and the region's stunning Taonga Māori are supported by changing exhibitions in seven additional gallery spaces.
Napier Hill Cemetery Tours - Summer 2017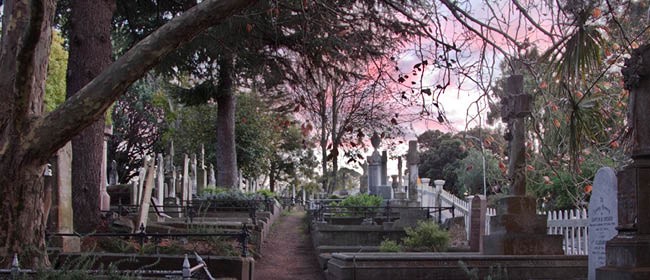 Our tours of the Napier Hill Cemetery are back this summer by popular demand. Led by Curator of Social History Gail Pope, the tour winds its way through the historic cemetery on Napier Hill, where you will discover tales of tragedy - from falling under a train after a high-spirited picnic to dying from fumes on a burning ship.

See the elaborate tomb of a poisoned wife created by a guilty husband and the simple totara gravestones raised by friends to the departed. Funds raised go towards the purchase of the works for the Hawke's Bay Museums Trust collection and the Napier Hill Cemetery planting project.

Bookings essential - please phone MTG Hawke's Bay on 06 835 7781 to secure your place on the tour.

(Please bring cash on the day.)
What to bring: Sturdy walking shoes, sun hat and sunscreen and bottled water.

Allow 1 1/2 - 2 hours for the walk.
When
Sunday 26 March, 2:00pm to 4:00pm
Cost
Where
MTG Hawke's Bay, Napier, Hawke's Bay / Gisborne
1 Tennyson St, Napier, Hawke's Bay / Gisborne
MTG Hawke's Bay is one of Napier City Council's great facilities/services. There are many more...
Enquiry or Feedback
If you have any questions, problems or feedback for MTG Hawke's Bay please let us know about it.
Follow MTG Hawke's Bay on facebook...